KAORU's Retirement Show Results From August 8, 2022
KAORU Finally Has Her Final Match
Marvelous Pro Wrestling results from Tokyo, Japan at Korakuen Hall on 8/8/22 live on ZAIKO: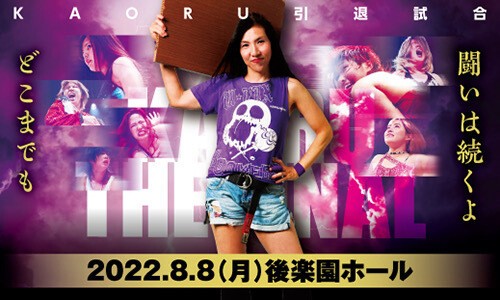 Chigusa Nagayo, Rin Kadokura, and Ai Hozan were off of the show because of testing positive for Covid-19.
Mio Momono, Ayame Sasamura, and Ranmaru defeated Tomoko Watanabe, Hibiscus Mii, and Yuu in a 6-man Tag Team Elimination Match. Momomo eliminated Mii by over the top rope rule with a drop kick. Yuu pinned Ranmaru after a Lariat. Yuu pinned Sasamura with a Diving Body Press. Momomo eliminated Yuu by over the top rope with a Frankenstiener. Momomo pinned Watanabe with the Momo Latch to win the match.
Shigehiro Irie pinned Leo Isaka after the Beast Bomber in 9:32.
Maria pinned Riko Kawahata after the Excalibur in 8:25.
AAAW Champion Takumi Iroha pinned Itsuki Aoki after the Running Three in 22:11.
Takumi Iroha, Tomoko Watanabe, Mio Momono, Leo Isaka, and Maria defeated KAORU, Chikayo Nagashima, Megumi Yabushita, and DASH Chisako (with Panda-chan) when Iroha pinned KAORU in 18:52 after the Running Three.
The main event was KAORU's retirement match. August 8 is the exact date of her 1986 debut. She was going to have her retirement on 8/8/21, but as bad luck would have it, she fractured her ankle and knee during a match on a Marvelous show on 7/19/21 and she needed surgery. The match was her, Asuka (aka Veny), and Chikayo Nagashima vs. Tomoko Watanabe, Mikoto Shindo, and Yuki Miyazaki. She was on top of a ladder that tipped over and she took a bad bump. Asuka pinned Shindo after a Moonsault off of a ladder to win the match. So this 8/8/22 match was both KAORU's return match and her final match.
Alumni from All Japan Women's Pro Wrestling and GAEA JAPAN were part of KAORU's retirement ceremony including Combat Toyota, Sonoko Kato, Sakura Hirota, and Sugar Sato.
KAORU gave a nice speech. She thanked all the fans and wrestlers for supporting her over 36 years. She said she was injured last year and has had many injuries over her career. She thanked everyone for not abandoning her while she was out of action. She also thanked all of the staff, costume designers, and hair and make up stylists who have helped her over the years.
The bell started to ring for the traditional 10-Bell Salute to signal the end of her career. She stopped it at 5. She said she wanted to be at a future show with Chigusa Nagayo in attendance to do the remaining 5 bells.